For businesses dealing with jewelry such as earnings, bungles, necklaces and other ornaments, our clipping path services are very important for you. A picture speaks more than a thousand words as linguists ones put it. A display of a single product in different background themes as a sales promotion strategy is not a bad idea. We believe that human beings are different and are attracted to different color schemes. This means that displaying products in the different colored background gives our customers a wider fetch that can translate into more sales orders.
With our clipping path technique, we are able to render images of tiny and complex shimmering earrings of all designs on elegant and attractive backgrounds with different color schemes. We commit to render a superb jewelry finish that will enable you to attract customers from all over the world. Online galleries of jewelry and ornaments display classic images rendered strategically to lure customers to hit the order button. This proves the importance of clipping path services that we offer.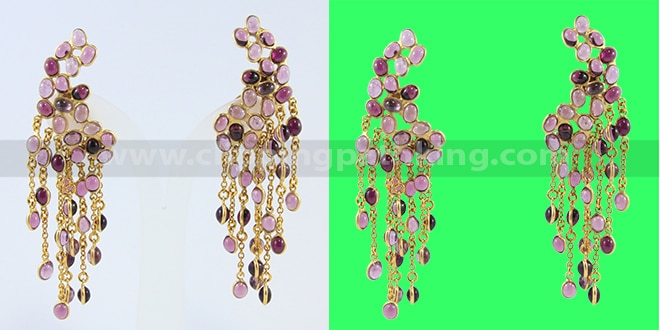 Nobody wants to be left behind in matters fashion and taste? Men and woman from all walk of life work day and night to keep abreast with the rapid changes in taste, preferences, and fashion for goods and services. Images of fashionable jewelry of all designs must match with other objects in the photograph to achieve the desired effect. Animated glints of jewels such as diamond necklaces and other ornaments are rendered to grab the attention of prospective customers.
Fashion models at the forefront of jewelry marketing understand the role of clipping path services in rendering a unique and stylish image. The image modeled by us, generate the highest market leads on the web. Clipping path services facilitate image isolation, manipulation, replacement, and enhancement. All these efforts we do with the goal of attracting customers. Our joy is when your products attract the highest clicks that enable you to close highest sales.
Through our clipping path service, images of jewelry with faded colors are enhanced to natural and perfect color. Unwanted spots and blemishes are removed from the background of the image. We have the expertise to carry out any modification you may want to on your jewelry image. Our prices take into consideration bulk images. We provide a discount on bulk orders. For images of wedding rings, bracelets, bangles, pendants, and brooches visit our photo gallery and see how they looked like before and after service. Our services range from color adjustments both on the face of the image and background. We are able to remove shadow, dust, and scratches from any image. We correct image light, removing reflections and clearing blurs. We agree with our customers and work together to the desired image effect is realized. We are caring and listening partners, ready to understand your most pressing image requirement and commit to delivering to your expectation.
If you are in e-commerce, web-based marketing, direct sales, packaging and branding, online promotion, book publishing or any other business knock on us for your image editing needs. We are available throughout the week any time to attend to your inquiry. We also offer you a chance to upload two free images for us to give you a feel for our services before you give us work to do for you. Feel free to grab the offer. Our facilities comprise of the modern state of the art laboratory fully equipped with modern software and hardware devices to enable us to deliver the best to our clients worldwide.