Now a day's, selling jewelry online is one of the most challenging things to do. It is because people are really conscious while investing money in jewelry Photography Props because they are quite expensive. Since it is an asset for everyone, no one wants to take a risk as these items are not returnable. They definitely expect a similar product 'jewelry props for photography' to arrive and if they don't like the product. The website will not accept any kind of refunds or returns.
Now the matter of concern is that how to add the products in the webs hop which look natural, deep, and realistic to the eyes of the viewers. It will convince them to buy products from your website over the competitors. Attractive images hold great significance when it comes to eCommerce stores because the viewers cannot hold the product in their hands. And as they say, pictures speak louder than words. You can give them an appealing and perfect version of ordinary images in order to have faith in your portal with the help of props for jewelry photography.
Especially when it is about jewelry photography and people have to complete trust in the quality. To the appearance of the item, they are going to buy, it is your duty to show them exactly what they want. Now the question is how to add an interesting factor to the product images. So people make quick decisions whether or not to buy.
Jewelry already is appealing because of the studs, pearls, and stones embedded on it, and enhancing it more is easy if you follow these below-mentioned steps. These jewelry props
are used to increase sales, let's check out:
Earring jewelry photography props
Presentation is the most important factor for any kind of product online. No matter when it comes to the earring or any jewelry items. Earrings can be photography by hanging to replicate how they are worn. Try to shoot your jewelry earrings photography with props. The Earrings can be placed flat on a flat surface or there is an acrylic stand with holes in it to hang the earrings.
 Props for necklace product photography
For necklace product photography, it's needed to display the necklaces props that come in use. The necklaces placed on the flat surface don't look appealing so stands give a better idea to the viewers. Also, the props stand depicts the necklace in an appealing way. All the necklaces have different chain lengths and stands give you an option to adjust the length accordingly which is not possible if you put the necklace flat on the surface.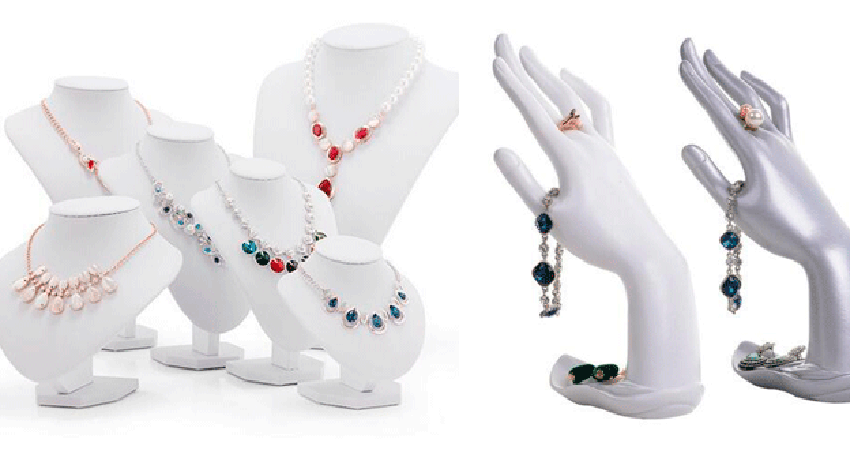 3D bust jewelry props for photography
The 3d bust is an important prop to use for jewelry photography because it gives the viewers an illusion as if the necklace is worn by someone. If you simply place the necklace on a stand, it looks good but if you make it wear on the bust, the product looks more appealing and enhancing.
jewelry Photography acrylic table kit 
The acrylic table kit works absolutely fine when you have to use various angles and backgrounds. Usually, a black backdrop is used because the jewelry is embellished with stones and studs and black enhances it well. Zirconia and pearls look graceful against a black background and shooting them in different light conditions bring out the best.
Hand holder Props
Displaying the rings or bracelets is possible with a handheld as the viewers can get an idea of how it will look on them if they buy. Plus, the hand holder props for jewelry photography show the real shape and size of the product.
Wooden ring holder Props
There are wooden bangle holders available in the market for a long time. And, wooden ring jewelry props or holders are a new trend as they are easy to use and store the rings in a more organized way. Also, the wooden ring holder shows the ring in a perfect manner. The viewers clearly get to know the exact size of the ring.
However, all these props are readily available in the market for you to buy any of them or all. But if you are just starting out your online store and don't want to invest much, you can make your own props at home. Well, they are good to use and easy to make in the comfort of your home. Let's check out:
DIY props
White paper sheet for Jewelry Photography
Use a white paper sheet to click the pictures of jewelry photography. Avoid using any other dark colors because they are distracting. To get a pure white background, use plexiglass and get perfect results.
Glue gun
Glue guns are used to stick the Jewelry items on the surface on which you want to click the product. Getting awesome images is possible with the help of a glue gun but make sure not to ruin the product with overheated glue. All you need to do is stick the jewelry item on the surface and not destroy it.

Cardboard
For jewelry product photography, you need cardboard against which you can shoot the products. Take cardboard, tape, and white paper. Now secure the necklaces either small or long on the card with tape. This prop is quite easy to make and there is no hassle of using it as well.
Important factors for  jewelry props for photography: 
Why are props important in Jewelry photography?
Props are not the main Object in a photo but it's used to better support and add meaning to the photo. With jewelry photography, a prop will pop up the Jewelry. And it'll show the Visitor an awesome idea and make eye-catching of who they are. Jewelry props can make them presentable.
How do you prop up jewelry in your web shop?
You can use Jewelry props like earring stands, Hand holder Props, wooden ring holder props, and necklace 3d bust or acrylic table kit to Prop up your Jewelry Product photography. Put a little bit of Glue gun on the jewelry and stick it to a White paper sheet surface you need. Spatially I like the White paper sheet because it doesn't create the  background surface, rings are sticky, and it's easily removable.
Where do photographers get Jewelry props?
There are many places to Source Low cost Photography Props and Backdrops
You can get jewelry Photography props from Amazon.com
Target.com nice place for Backdrop and props
Get Photography Props from Etsy.com

Bessiebakesbackdrops.com

Antique Photography Props from Antique Stores

Home Improvement Stores for DIY Photography Props.
Do photographers provide jewelry props?
Generally , the importance of the props in Jewelry photography is to help Make character and interest to an Image. Some types of photography like Jewelry photography, cannot exist without the help of props, as they are needed to translate the hypothetical concept into a Photo.
Conclusion
Yes, of course, ready-made props add a lot of appeal to the jewelry items but DIY props are also a great addition. Jewelry items look extremely amazing when displayed using these jewelry props. Since all the props lend an impressive and gorgeous feel to the product images, they also drive more sales. You can photograph nose pins, rings, necklaces, anklets, earrings, hair studs, and bracelets, etc. using these props. Explore the market and see which props suit your jewelry items the best. If you sell only the necklaces, then go for the necklace props and so on. To make sure your eCommerce store stands out from your competitors, make the most out of these props and give your product photography an amazing transformation.